30 Oct

The Principal's Pen – November 2020 Newsletter

The last few months have been so very different to any that have ever experienced before.

Before you become alarmed, I assure you that it has been an extremely positive time.  Yes, there have been momentary glitches, but we have always risen to the challenge and come through with flying colours.

What has made this period so different?  If you said COVID-19, you would be totally wrong.

I have long held the opinion that most of the professionals do not understand lighting as a subject.  Unfortunately, lighting is designed in the most uniform and boring way with scant regard for designing lighting for the well-being of the occupants, or the varied tasks in an application that have to be performed and which require different light levels and for that matter different luminaires too.

It is great to read the personal opinions of our students when the answer a question in Module 26 on the home stretch in their second year.  The question is: "Now, give your personal opinion about HCL (Human centric lighting) in South Africa".

Their answers are all so similar but bear in mind that they work online and they are all at different points in the course at different times.  The common thread of the opinions of professionals, both architects and engineers are:

"In general, change in habit is not easily achieved; therefore, the old way of doing things including the design of lighting systems for internal and external areas tends to stay, mostly because of a lack of knowledge, but people are also scared of change. Since human centric lighting is a relatively new concept, not everyone knows about it nor do they understand the benefits of HCL".

Another opinion: "HCL is a concept that is embraced in many first world countries. The lighting industry in South Africa is governed mainly by price and because the industry is slow in adopting new ways of thinking, conventional lighting is still preferred above new technology LED luminaires which could be smartly controlled.

The concept of human-centric lighting still has a long way to go in the South African lighting industry. Contributing factors that slow down the process of adopting HCL principles, include the following:

The decision makers are mainly electrical engineers, facility managers and architects with limited knowledge about LED luminaires and the dangers of over-illumination and light pollution. Without the adequate training and acceptance of the concept, humancentric lighting designs will not prevail over designs that result in over-illumination".

I must at this point insert a disclaimer.  It is not my intention to criticise my fellow professionals, but rather encourage them to take the BOLD STEP to enrol for the Advanced Diploma in Illumination Engineering course to acquire that vital knowledge about the new technologies and of course LED so that they can learn to use the exciting lighting products and controls.

To my surprise and joy, from May to October 2020, six architects and eight consulting electrical engineers have enrolled for the course.  Well done to each of them for recognising the critical need for qualified illumination engineers to advance the adoption of the new lighting technologies and associated lighting and other system controls.

Another thrilling aspect experienced has been as I regularly prepare for the webinar series that I have presented and will still present before the end of this year, I have immersed myself in material on the subjects to be presented.  I regard it as an immense responsibility to present accurate, academically and scientifically correct content.

The subjects of the current series have all been at the request of attendees to webinars.  This has encouraged me to delve even deeper into the subjects to present the content enthusiastically in a stimulating, encouraging and interesting way.

The response from attendees from all over the world has been phenomenal.  This has created a fire and a passion in me as I have never before enjoyed.

If you are reading this newsletter and have never attended a webinar with us before, simply go to https://www.bhaschooloflighting.co.za/webinars to register for the next webinar.
---
It's time to welcome new students
Andries Burger, ADA Architects, Pretoria – BHASL003C19: Advanced Diploma in Illumination Engineering Course
John-Eric Hall, Signify, Brakpan – BHASL003C19: Advanced Diploma in Illumination Engineering Course
Hans Van Rooyen, Perspex SA, Randburg – BHASL003C19: Advanced Diploma in Illumination Engineering Course
Jeremias Pimenta, Architect, Copenhagen, Denmark – BHASL003C19: Advanced Diploma in Illumination Engineering Course
Mthulisi Dube, Zutari Engineering Consultants, Pretoria – BHASL003C19: Advanced Diploma in Illumination Engineering Course
Sharl Wasserfall, Berlux, Cape Town – BHASL003C19: Advanced Diploma in Illumination Engineering Course
Eric Ceba, RNA Consulting Engineers, Port Elizabeth – migrated to BHASL003C19: Advanced Diploma in Illumination Engineering Course from another course.
---
Happy birthday to each of you celebrating your birthdays this November.  Have a fantastic day!
Peter Molnar, Toronto, Canada – 3 November
Abinaya Jevaraju, Kuwait – 4 November
George Du Toit, Cape Town – 7 November
Enzo Manna, Johannesburg – 11 November
Retief Coetzer, Johannesburg – 15 November
Relton Pillay, Johannesburg – 17 November
Mark Reid, iSwatini – 23 November
Zwelibansi Daniel, King Williams Town – 24 November
Mthulisi Dube, Pretoria – 25 November
---
Congratulations to the following students on your admission to some of the worl'd leading institutions:
Mia Koster. Windhoek, Namibia – The Institution of Lighting Professionals (The ILP) (UK)
Dean Boyce, Cape Town – The Institution of Lighting Professionals (The ILP) (UK)
Savas Seckin, Istanbul, Turkey – The Institution of Lighting Professionals (The ILP) (UK)
Madhura Kotkar, Pune, India -The Institution of Lighting Professionals (The ILP) (UK)
Mark Storm, Cape Town – The Institution of Lighting Professionals (The ILP) (UK)
Savas Seckin, Istanbul, Turkey – International Association of Lighting Designers (IALD, USA)
---
enLightened Community Meetings
Join us every Tuesday from 13:00 to 14:00 for an informal chat about any subject under the sun as long as it is positive.  Join us for moral support and networking.
WEBINARS (CPD Activities) – for detailed info click HERE 
Important Note: Series 5 webinar subjects have been specially requested by professionals who have attended the previous series.  You requested, we took note and now we are responding.
---
Join the BHA School of Lighting's Alumni and Follow us on LinkedIn – https://www.linkedin.com/company/bha-school-of-lighting/
You can also follow us on our Facebook page – https://www.facebook.com/bhaschooloflighting/
---
YES IT'S TRUE! WE EAT WITH OUR EYES!
---
Source: LUX REVIEW
Bright Food Tastes Better, say Scientists
Diners believe food that's brightly lit tastes better, researchers have discovered. 
In an experiment at a fine-dining restaurant in the Netherlands, scientists found that guests eating under bright ambient light perceived the overall taste of the dish as more intense as opposed to those exposed to the dim lighting.
The findings could force a rethink of how lighting professionals, restauranteurs and others in the hospitality sector design lighting.
In the assessment, the team from Maastricht University manipulated the light intensity by adapting the illuminance levels of the 55W pendant lamps (warm white light) above each table.
In the dim light condition, the illuminance was set at 13 lx and in the bright light condition, the luminance was set at 300 lx.
Depending on the day that the guests were visiting the restaurant, they were assigned to either the dim or the bright ambient light condition.
A total of 152 people participated in the study.
They were all served a special dish which contained the four basic tastes (salt, sour, sweet, and bitter) and multiple textures (such as crispy and creamy elements) while being as balanced as possible.
The dish could be consumed within two or three bites.
The diners were then asked to rate the perceived overall taste intensity of the dish on a nine-point Likert satisfaction scale.
Participants in the bright ambient light condition rated the overall taste as more intense as opposed to guests in the dim ambient light condition.
However, light intensity had no effect on the pleasantness of the perceived overall taste intensity.
In the experiment, the team from Maastricht University manipulated the light intensity by adapting the illuminance levels of the 55W pendant lamps (warm white) above each table.
The findings are consistent with prior research into lighting which have demonstrated that there are lower taste thresholds of sweet and salty foods and increased taste intensity perception of sweet food in brightly-lit environments compared to dimly-lit ones.
Luke Garnsworthy, founder of Hertfordshire-based restaurant Crockers Tring, told The Telegraph that good lighting is vital because 'the first taste is with the eyes.
'That's why great chefs go to such lengths to create not just tasty food but beautiful looking plates,' he said.
'In my mind, it makes perfect sense to light the table and therefore the plate properly.
'We want our guests to be able to feast with their eyes, and also to share photos of the dishes with their friends.'
Read the full research paper HERE.
---
CRYSTAL IS & NEIDL RELEASE GERMICIDAL UV RESEARCH ON DEACTIVATING SARS-COV-2 (UPDATED)
---
Source: LEDS MAGAZINE
Relative low irradiance doses of UV-C in the 260–270-nm range can deactivate the coronavirus in a matter of a few seconds.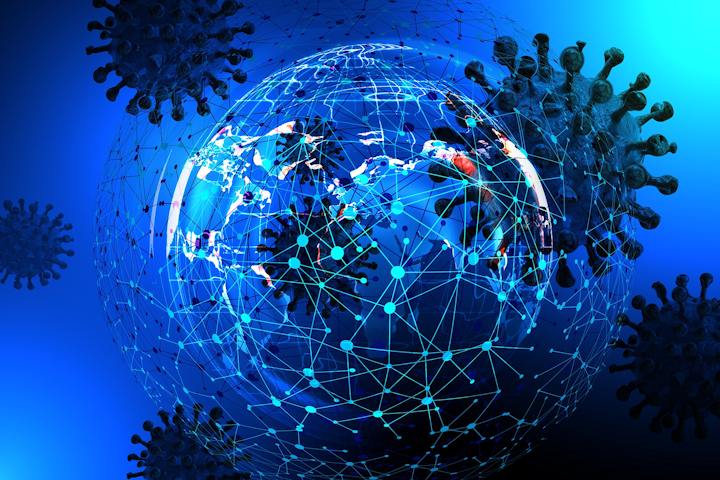 Image credit: Graphic by Gerd Altmann via Pixabay; used under free license for commercial or non-commercial purposes.
Crystal IS and the Boston University (BU) National Emerging Infectious Diseases Laboratories (NEIDL) have announced research relative to ultraviolet (UV) LEDs operating in the UV-C band (100–280 nm) deactivating the SARS-CoV-2 virus. The work revealed almost instantaneous deactivation at wavelengths of 270 nm or shorter and much lower efficacy for LEDs operating at 280 nm.
While many have thought the ideal germicidal UV wavelength is 254 nm, that prevailing wisdom was simply based on the fact that mercury discharge lamps operated at that peak wavelength. Meanwhile, in the UV-C LED sector, longer wavelengths result in somewhat improved performance in terms of radiometric output and lifetime, and also somewhat reduced cost. Indeed, we are pursuing a feature article that will focus on tradeoffs in wavelength, UV-LED output power, and germicidal efficacy.
We have written previously that recent research (conducted once UV-C LEDs were widely available) may find that energy in the 265-nm range might actually have the greatest germicidal efficacy. UV LED manufacturer Crystal IS has now worked with BU's NEIDL to test the efficacy specifically with the SARS-CoV-2 virus across the range of 260–270 nm where Crystal IS offers UV-C LEDs, and at 280 nm.
In general, the research confirms that proper UV-C doses can deactivate the virus that causes COVID-9 in a matter of a few seconds at worst. Documentation of such efficacy is expressed as a log reduction in active virus where 1 log efficacy would equate to 90% deactivation of virus, 2 log 99%, 3 log 99.9% and so on. The researchers exposed a surface with SARS-CoV-2 present to different doses of UV-C energy measured in units of mJ/cm2. That dosage metric encompasses the exposure duration and radiometric power in mW/cm2, although the researchers separately mentioned exposure duration explicitly to make the point on deactivation time.
In separate tests with 260-, 268-, and 270-nm LEDs, 4-sec exposure delivered efficacy of 2.6 log (260 nm), 2.8 log (268 nm), and 2.8 log (270 nm). That reference dosage was 5 mJ/cm2. The researchers also tested the 268-nm LED at lower dosages of 1.25 mJ/cm2, 2.5 mJ/cm2, and 3.75 mJ/cm2 achieving 0.7, 1.2, and 1.5 log performance.
Meanwhile, some LED manufacturers are promoting 280-nm LEDs for use in fighting SARS-CoV-2 because such LEDs can be manufactured more easily. Indeed, irradiance at that bandwidth will deactivate the virus. But efficacy does drop significantly at the longer wavelength. At 3.75 mJ/cm2, the 280-nm LEDs only delivered 0.9 log efficacy and it required a 37-mJ/cm2 dose to deliver 3 log efficacy.
This entire concept of germicidal efficacy relative to UV-C LEDs and also application methodology is going to require much more research and also coverage on our part. Just last week, we reported on a GE Current product that will operate at very low doses so that it can be safely used in the presence of people. That product might take a few hours to deactivate SARS-CoV-2, yet it could be operated continuously.
There have also been questions about whether UV-C LEDs are ready for SARS-CoV-2 duty because mercury lamps can generate far higher levels of irradiance and therefore higher efficacy. But only UV-C LEDs could be used in an application such as the Current product is intended. Moreover, we recently covered a product from Energy Harness intended to circulate and disinfect air that effectively uses LED sources.
Crystal IS has in fact long argued that product developers need to think about using UV-C LEDs in different scenarios from how mercury lamps are used. Those lamps must be powered on continuously even if the germicidal usage isn't continuous. Warm-up times and failure due to frequent on-off cycles lead to the need for continuous power. However, UV-C LEDs can be cycled on and off at will, making shorter lifetime a non-issue and essentially changing the lifecycle cost of use.
*Updated Oct. 5, 2020 10:55 AM for wavelength correction.
*Updated Oct. 8, 2020 10:19 AM for clarification on published research status.
---
---
Copyright © 2020 BHA School of Lighting, All rights reserved.
Our mailing address is:
BHA School of Lighting
20 Arena North, Grand National Blvd
Royal Ascot
Cape Town, Western Cape
South Africa
7441